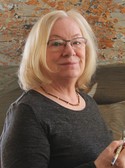 Biography
I was born in Rockglen, Sk in 1953 and now live on a ranch in the same area of southern Saskatchewan. I am married with 3 grownup sons. I have always enjoyed art and so in high school I took a correspondence course in illustration from the Art Instruction School. I also have taken a few drawing and painting classes but consider myself mainly self-taught when it comes to fine art.
My favorite subject is the horse, but I also enjoy painting wildlife, western landscapes, rodeo scenes and the people I know. Working on a ranch and living in southern Sask definitely contributes to my choice of subjects. Some of my interests are history, nature and gardening. And so I consider my art to be a reflection of my life. My favorite medium is watercolor but I also use oil, acrylic, pencil, pen and ink and pastel.
My work has been shown at the Calgary Stampede, Arts Saskatchewan show, Medicine Hat's "Not Just Another Horse Show" and Refection of Nature Show in Saskatoon. It has been in two OSAC touring displays. And can be seen in the SaskTel Collection, as well as many private collections. I have had paintings on three 4H Christmas cards and on the 1993 SGI calendar. You can see my work in "The Children of the Wood Mountain Uplands", a children's book based on historical events in our area. Recently my painting "Are You Ready?" was on display in Saskatchewan's Lieutenant Governor's Office in Government House in Regina.
---